Improve your productivity!

Due to the health crisis, many people have had to move their office or school to their homes. Now we spend more time at home and the best thing is to have a routine that allows us to work and study in a disciplined way, and make the most of our day.
Next we give you some tips so you can work and study in an organized way at home, along with products that can help you.
Create a comfortable workspace to work or study
The first step to be able to work or study comfortably at home is find a suitable space. You should find a place that you can use and that is comfortable. It is not recommended to work or study in bed or on the sofa, since we tend to take bad postures that can end in back pain.
A desk, dining room table or kitchen can be the perfect place to transform into your office or study area. It is important to have everything you need on hand and that the table is tidy, to avoid distractions and maximize your productivity.
Also, you should have good lighting, whether natural or artificial, so as not to strain your eyes and avoid eye fatigue. Meet 3 products that will help you create your work or study space on any table in the house.
1. Desk pad of Eminta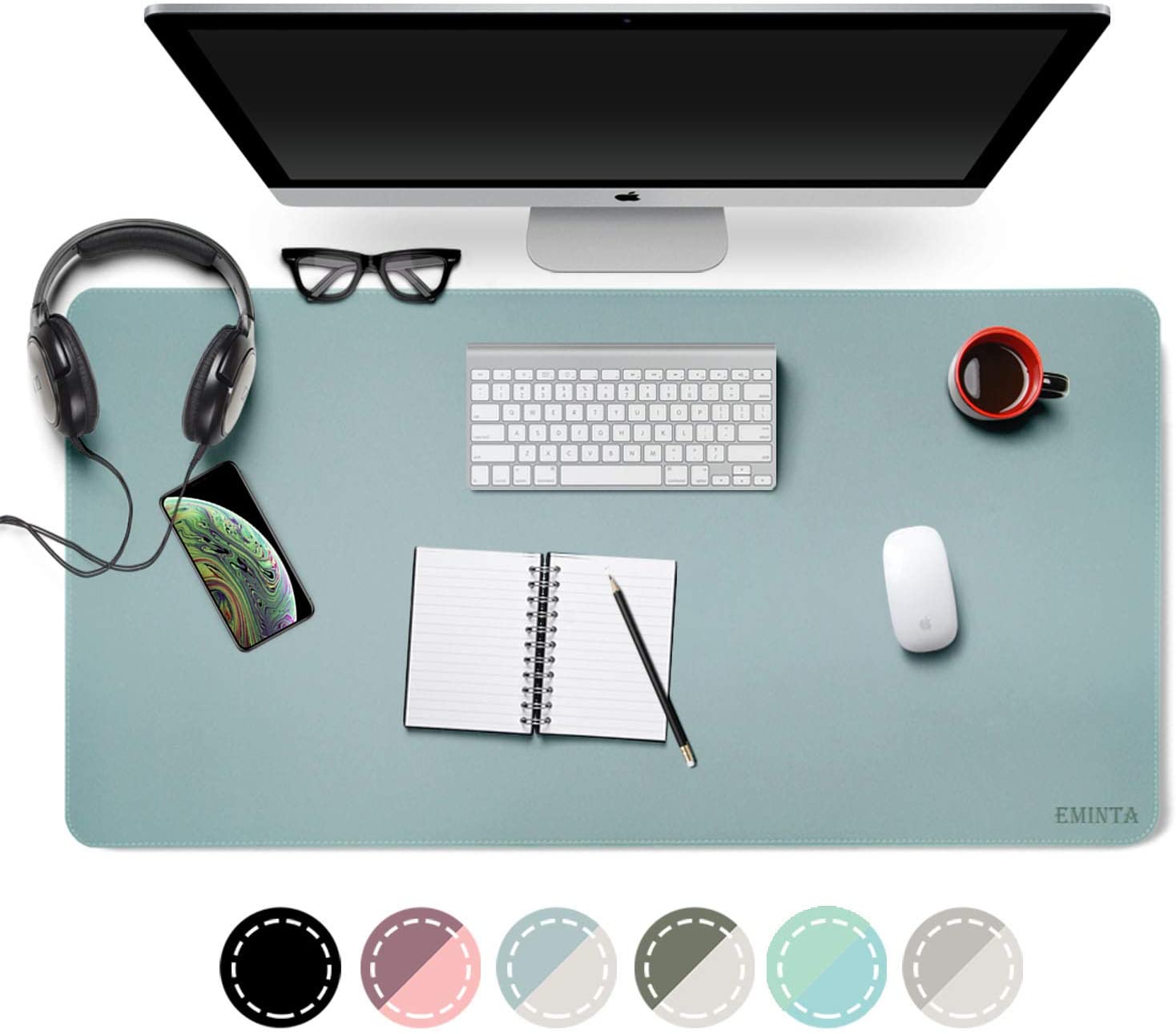 This is a product that will help you organize your work or study space. It's about a desk pad Eminta that you place on any table and allows you to protect it, but also helps to define your space and feel more organized. Ideal to place on the dining room table or on a desk, this product has dimensions of 31.5 x 15.7 inches and is reversible. Helps protect your table from scratches, water or dirt and serves as mouse pad.
Available in several different colors, this product has a affordable price, less than $ 20 on Amazon. Customers comment that it is an ideal product for any space, and very useful for protecting glass or wooden tables while you work or study.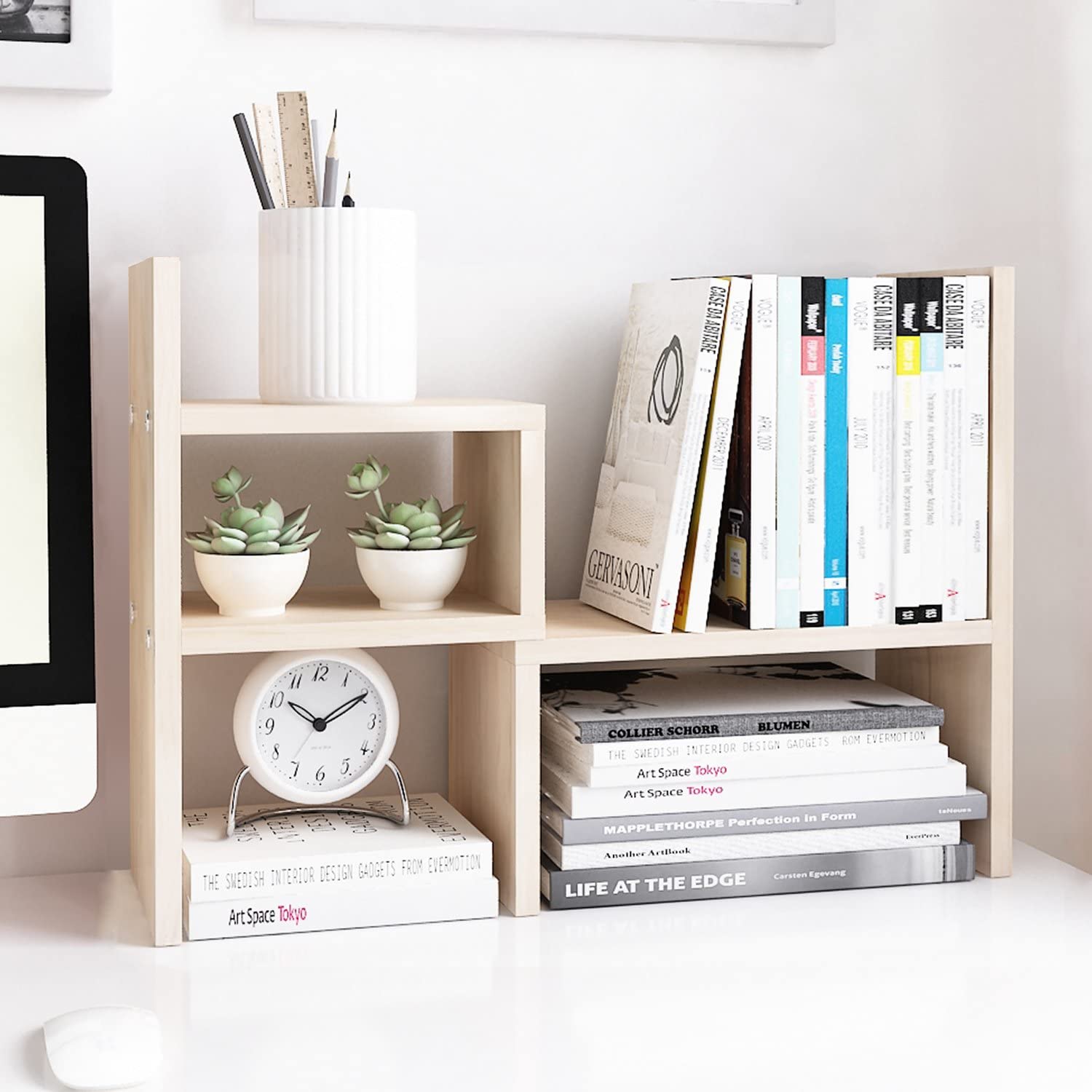 Ideal for maintaining order on your desktop, this wooden organizer It has several shelves for you to accommodate your books, pencils and other things you need on hand. Due to its compact design of 16 x 15.8 x 6.8 inches, it is ideal to place on any desk and avoid clutter.
You can find this product in wood, white wood and black wood, priced under $ 30 on Amazon. It is well valued, as customers comment that it is a simple, but highly functional product, perfect for maintaining order at any table. In addition, they mention that if your table is long you can place 2 and get more storage space.
While working or studying, direct lighting is very important to avoid straining your eyes and with this TaoTronics lamp you can get an even light at your table. With a very simple design, this lamp offers 5 light temperature levels, between warm and cold, and also 7 different intensity levels, to adapt to different needs.
Available in various colors, this lamp is priced under $ 35 and features more than 11,000 reviews in Amazon. It has a touch controller at its base and a USB port to charge your cell phone or tablet. Customers comment that it is a very functional and versatile lamp, ideal for desks or bedside tables.
Plan your day
You already have your space to work or study, so it's time to plan your day to give organization and direction. The best is to set your daily and weekly goals, to be able to stay motivated during your days. It is also important that you establish rest, eating and physical activity times, as this positively affects your body and mind. If you want to exercise at home, look at this guide with the products that you cannot miss.
We recommend that establish a fixed schedule for the days you go to work or study and thus create a routine that suits your needs. You can also choose to work or study in blocks of time, with small breaks in between as the pomodoro technique. Each one is different, so you should find the routine that best suits you and helps you stay focused throughout the day.
Planning your days will help you organize and make sense of your actions, in addition to be able to visualize and meet different objectives. We show you below 2 ideal products to organize your work or study.
4. Reusable notebook Rocketbook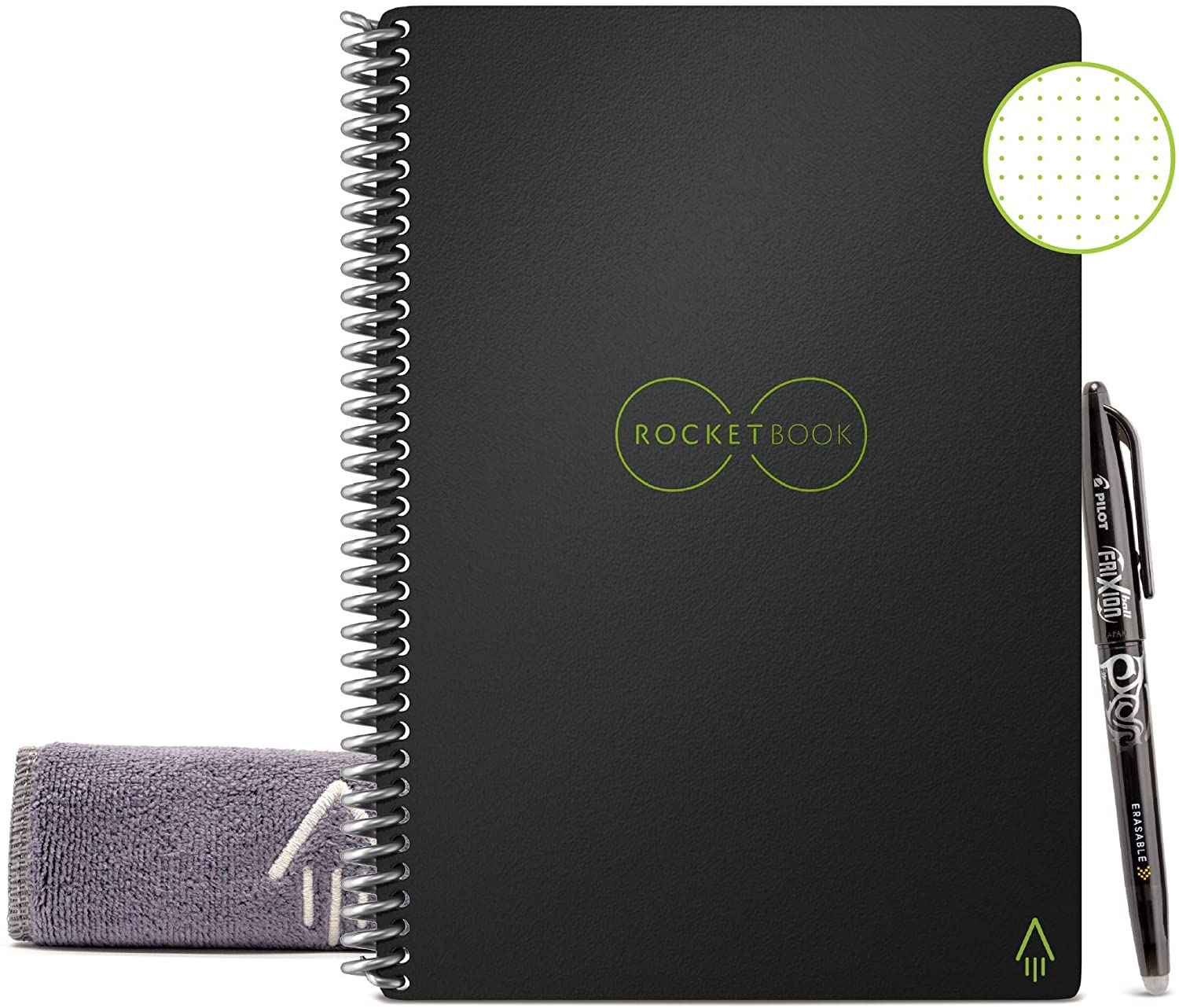 A perfect notebook for students, professionals or people who need to write it all down. The rocketbook notepad It is a reusable, ecological and innovative notebook. Its 36 pages are made of a blackboard-like material, allowing you to write with a ballpoint pen that rubs off with friction and then erase your notes to reuse the page. In addition, with the brand's application you can easily scan your notes and have them in the cloud.
Available in a large number of colors, different sizes and types of sheets, Rocketbook is an innovative and original product that is very good for all kinds of people. In Amazon, has more than 11,000 reviews and a positive assessment, highlighting that it is a very functional product, which allows you to take your notes or thoughts to the next level.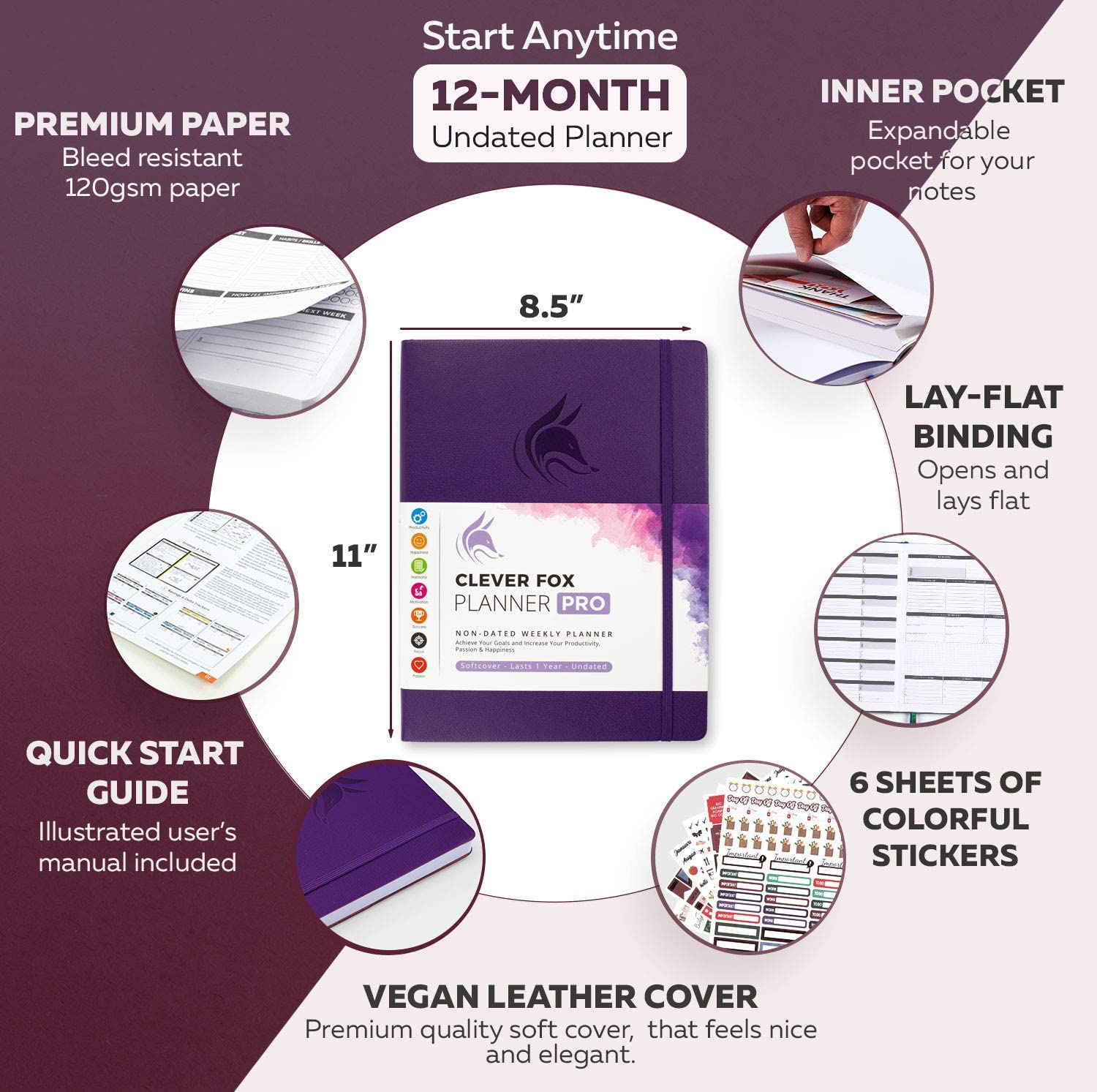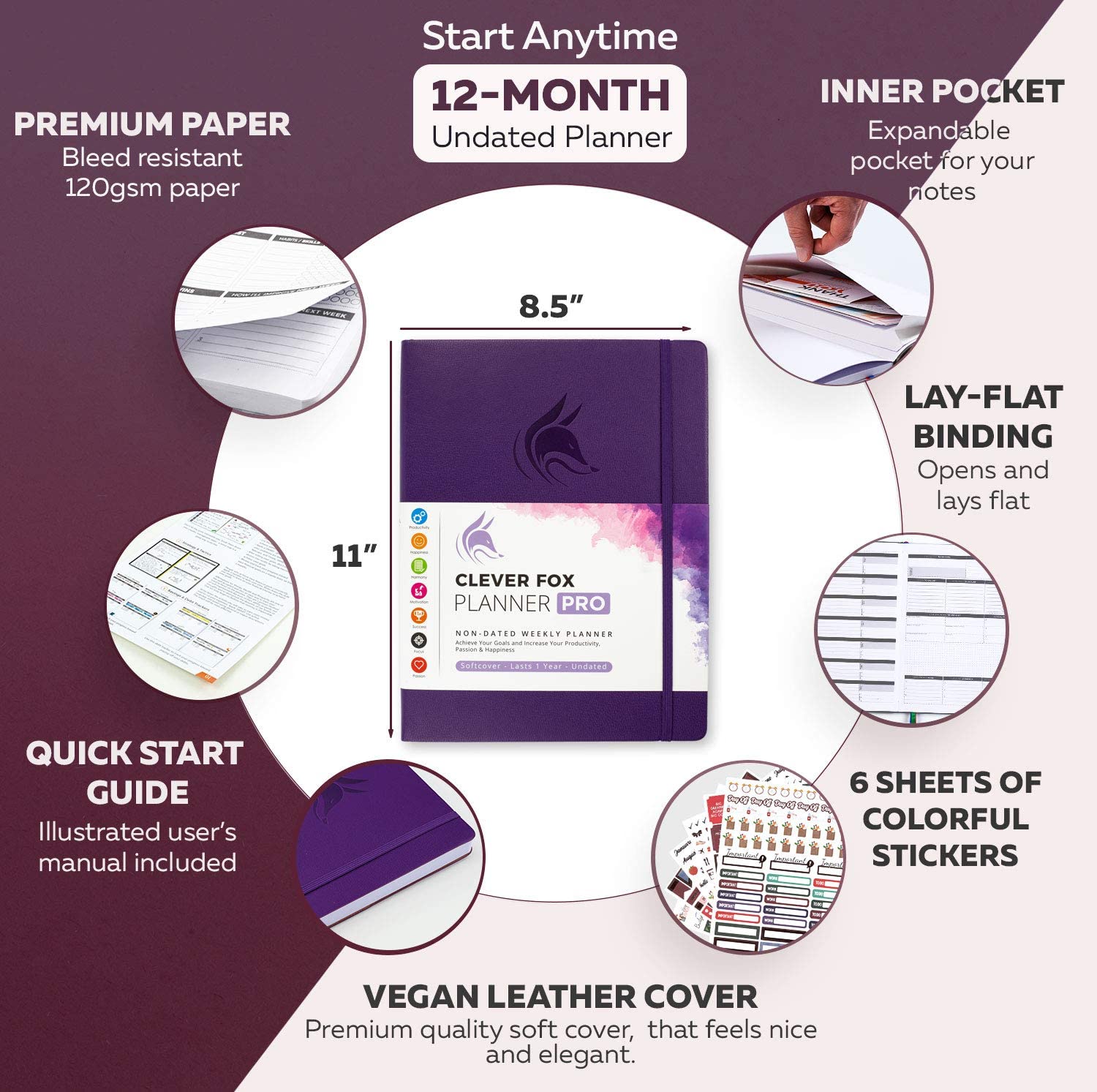 If you need to organize, this clever fox planner it can be the ideal product. It is a weekly and annual planner without dates, so you can use it whenever you want. It has several templates and 6 sheets with stickers to plan with fun. It is a product that combines a bullet journal and an agenda, with pages dedicated to productivity, but also focused on personal goals.
Available in several different colors, this planner has priced under $ 35 on Amazon and a positive assessment from customers. It has a dimensions of 8.5 x 11 inches and enough sheets to use it for 12 months. Customers comment that he is a fairly large organizer, but very complete to stay focused.
Avoid distractions
When you start your work or study day it is important to be able to concentrate, so we recommend that you avoid distractions. In order not to be tempted to look at Instagram or YouTube, you can leave your cell phone in another room or in airplane mode, or block pages in your Google Chrome browser with different extensions such as BlockSite.
If you live with other people, the best thing is wear headphones and play relaxing music or nature sounds, so that nothing breaks your concentration. You can talk to your family, partner or roommates and let them know that they don't bother you when you are wearing headphones, like it's a big "Do not disturb" sign. Here is one of the best-selling wireless headphones from Amazon that will help you disconnect from the outside world and encourage your concentration.
6. Noise-canceling headphones Cowin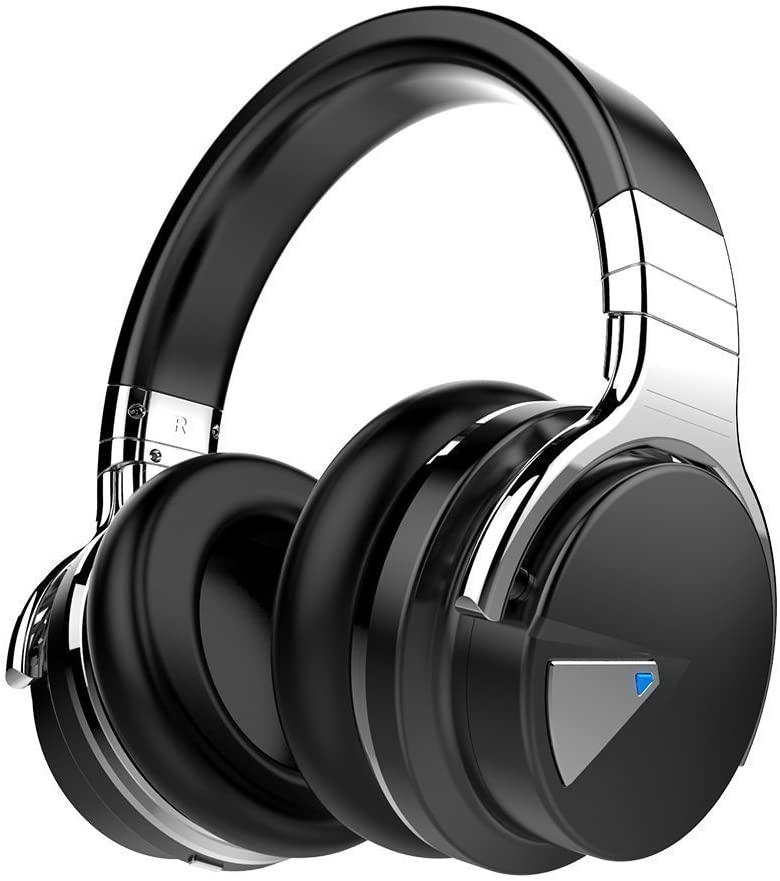 A model of wireless headphones, with active noise cancellation that are perfect for disconnecting. East cowin model It has a modern and minimalist design, with a battery that can last up to 30 hours. They can be used with bluetooth or wired auxiliary and have comfortable pads for long time use without discomfort. They are ideal for working or studying without distraction.
These headphones are available in several different colors and have priced under $ 60 on Amazon. They are one of the headphone models bluetooth best sellers and also best valued. Customers mention that they are headphones with good sound quality and that they are very light, ideal to always carry with you.
Take care and be patient
We know that this situation generates a lot of uncertainty and that it can be difficult to focus on everything that happens outside. But in this moment it is best to take care of ourselves and take care of others, and try to transform this quarantine situation into something positive. Eat healthy, drink a lot of water, take care if you leave home and practice some sport, all this will help your body and mind to be better.
You should know that everything will return to normal at some point, but in the meantime we must be grateful for what we have and enjoy our home and our family.
You may also like: Electronics and technology: the 5 products that your children cannot miss while studying at home